Dry Erase Paint - Not Just For Kids!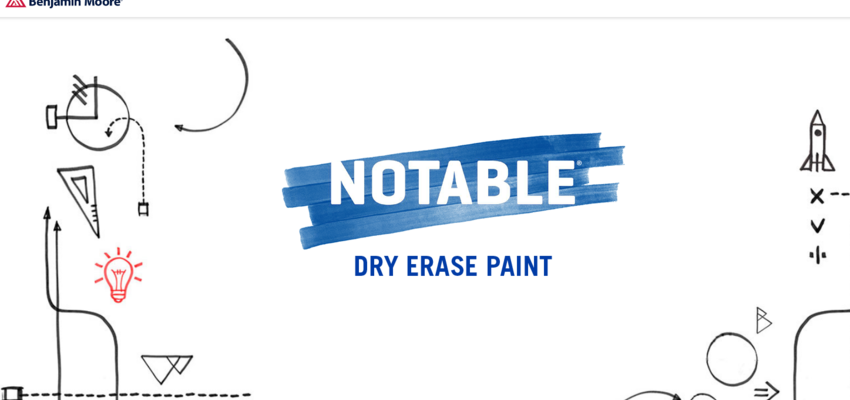 Benjamin Moore now offers a breakthrough dry erase paint product, which is fully describe on their website here: https://www.benjaminmoore.com/en-us/notable-dry-er...
Here is a summary of the features and benefits of Benjamin Moore's :Notable® paint:
Notable® is a dry erase paint that comes in classic white or clear. It can be applied to almost any surface and will leave no mark behind after being erased. From your kitchen to your office, dry erase paint will enhance your inspiration and allow your ideas to flow. With its use-friendly application, you will never feel frustrated or boxed in. Lack of inspiration is a thing of the past.
Why you need Dry Erase Paint in your life
Inspiration can strike at any time, and it's important to record that inspiration before it's gone. With dry erase paint, you can jot down your thoughts and plans on any surface. Families will love the unlimited space dry erase offers for ideas, chores and plans. Kids love the ability to safely doodle on their bedroom walls. Business owners love the ability to easily share ideas with their team in any professional setting, while restaurant owners use it to easily write out specials in any room. Dry erase paint has also been found gracing the walls of hotels, board rooms and schools.
Where to paint?

Notable's dry erase paint works almost anywhere in your home, office or business. From painted walls, wood, glass, metal, and laminate, strategically placed dry-erase paint can make almost any space a creative space.
Want a red dry-erase wall? We can do that! Notable's high-gloss, clear dry-erase paint can be applied over any existing paint job to create an easily erasable board that matches your decor and your mood, even after it's wiped clean.
How it works
Notable Dry Erase is a two-component paint product with a seven-day cure time. It will never crack and peel, so your walls will look just as clean as always—perhaps even cleaner. Keep the creative juices flowing with one-swipe erasing. Since comfort and accessibility are must, dry-erase paint will never require too much effort to put down or take off. Easy to apply, easy to use Preparation is vital to creating your own dry-erase think tank. Measure your surface and choose from 50, 100 or 200 square foot dry-erase kits. Get the right amount for your space to avoid stretching the paint. This will ensure that you can always write and erase at optimal performance. Notable's dry erase paint is user-friendly, isocyanate-free and safe to use. Other paints only have a one-hour pot life, meaning you have to mix the two parts, then get it on the wall within the hour. This puts a timer on your ability to get the job done right. Dry erase paint from Notable has a pot life of over four hours. That's a full three hours longer to accomplish the task.

Application tips

To start painting, make sure your surface is smooth. Correct any imperfections, and seal any wood-based areas to be painted. If using Notable white, prime the area with a non-flat white base. Next, frame your work space with painter tape. Then, mix your base with the catalyst and stir for two minutes. Finally, apply the first coat and let it dry. After ten minutes, it will be ready for a second coat. Touch up within 30 minutes and you are ready to remove the tape. Give it at least a week to cure. After that, let the ideas flow. For a full list of application tips, download the Application Guide

Let the Oliveira Painting Company do the work
Oliveira Painting is always available to paint a dry erase dream board wherever you need it. We guarantee our work will be completed in alignment with the manufacturer's specifications and your discerning eye. Based in Taunton, our company's services area reaches much of Southeastern MA and Cape Cod. We'll come to you to take on any job you require, with the efficiency and accuracy you deserve.
For more information, call 508-933-9731, or email joliveirapaint@gmail.com to request a custom quote now.