When is it too cold to paint a house here in New England?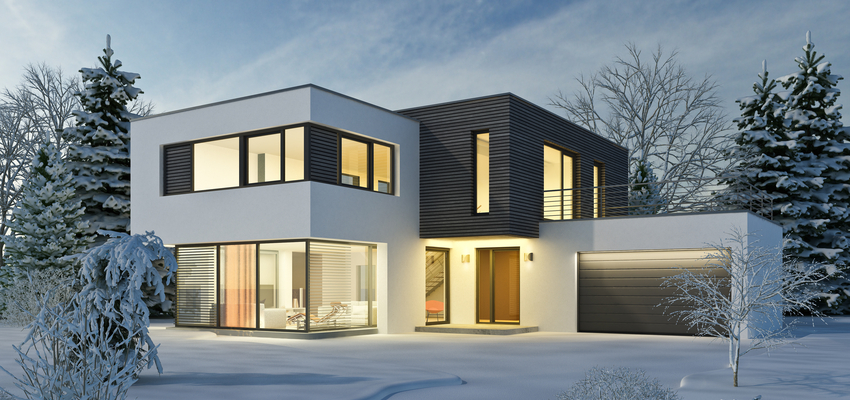 What time of the year do you prefer to paint your house? Do you not mind battling the heat in the summer, or would you rather wait until there's cooler weather?
Your warm home might be impervious to cold weather, but its exterior paint generally isn't. The Consumer Reports article -"How Cold Is Too Cold to Paint Outside?" points out that cold temperatures can hinder the drying process of wet paint. The cold can not only decrease the lifespan of your paint job, but it can also lead to mildew and staining. Unfortunately, in the painting world, anything below 55 degrees Fahrenheit is considered cold weather. That translates to issues such as poor color uniformity, water spotting (latex paint), extremely slow and inconsistent drying time, and film cracking.
New Englanders know a bit too well about cold temperatures, especially after these past few winters. Even though the winter season is now well under way, there's still time to prepare your home so that a new paint job will stand up to the elements for many years to come. A few simple tips and tricks, combined with easy-to-access, up-to-the minute weather reports can get your home to look great, especially if mother nature grants another "Indian summer during the winter season.
Simple tips for a great cold-weather exterior paint job
Check the label and use the right product
The first thing you should do when preparing to paint is check your paint's label for instructions on temperature ranges, as different types of paint might vary in this respect. Sherwin-Williams is a brand that caters to those who have to deal with colder temperatures than others. That's why they have the WeatherShield Exterior primer, specifically designed to protect paint in cold weather. It can protect fresh paint to 35 degrees Fahrenheit. A product like this can make sure that you won't be restricted to painting your home in just the summer.
Clean the surface to be painted
Painting in colder than recommended temperatures can cause mildew and staining, but depending on how old your house is, there might already be mildew and lead paint below the surface. Before painting, be sure to check for lead (per this Consumer Reports' link: step-by-step guide for using a test kit to check for lead paint can help), then if needed, have a certified lead-abatement contractor prep the surface. If you're lead-free, scrub the surface to be painted, either with a wire brush or a pressure washer. Don't forget to clean the surface of any dust and debris and allow it to dry prior to applying your first coat of paint.
Enclose the area
Using plastic or a weatherproof structure to enclose the area to be painted can help keep the temperature exactly where you want it. Utilize heaters as necessary to raise the temperature in your little bubble, then paint away. You'll need to leave the protection up while the paint cures to avoid issues. The area to be painted should be at least 50-55 degrees, so if it's colder than that, try using a hair dryer or heater to warm it up.
Try an additive
Additives like Floetrol for water-based paints and Penetrol for oil-based paints can help make the paint thinner and less clumpy in cold weather, allowing for a smoother coat that looks better in the long run. Follow the instructions for how much to add to your paint.
Time your second coat
Especially in the winter, you may need to add an additional coat of paint. Since cold weather slows drying times, as the temperature drops, you'll need to wait longer before adding a second coat. The amount of time you wait will depend on the temperature, as well as the type of paint being used.
Check the extended weather
Paint generally takes several days to cure, and the temperature and humidity at which it cures is as important as the temperature when you painted. Checking the extended weather report is essential for making sure that the paint continues to cure during the right weather conditions. Exteriors that receive a lot of sun exposure may end up warmer, and therefore dry more quickly. Shady exteriors, on the other hand, may need more attention to ensure they cure correctly without cracking or peeling. Try using an exterior thermometer to check for variances in temperature throughout the exterior of the building to be painted.
Also, beware of wind. Wind can speed up the drying process, but can also facilitate cracking, particularly in cold weather. Additional coats can help alleviate this concern.
Respect mother nature
Do your best to work at the warmest time of the day, generally between 10am and 2pm. If possible, coordinate your painting during a time when the area you're painting will be in direct sunlight. This will ensure that the surface is as warm as it can be, resulting in a better finished product.
Finally, avoid cold weather snaps. Even if you think your paint will be dry and cured before a cold snap sets in, you may risk ruining your hard work if the paint job is still fresh. If you see a cold snap on the horizon, consider waiting until after it passes if possible.
About us
Oliveira Painting hasn't packed up for the season! Although having your exterior painted in the middle of the winter is never an ideal option, we're here to help get your home or business looking the way it should. Contact us today to see if our services can help your cold-weather needs this season.
Based in Taunton, our company's services reaches much of MA from Cape Cod to Norton. We'll come to you to take on any job you require, with the efficiency and accuracy you deserve. Click here to see our service area for home or business painting in MA.
We also offer senior discounts and specials for the fall and winter seasons. We are also a LEED Certified Painting Contractor in MA. Now's the perfect time to ask about our specials as the cold weather approaches–we'll make "finishing" your paint job in the winter as easy as can be.
For more information, call 508-933-9731, or email joliveirapaint@gmail.com to request a custom quote now.